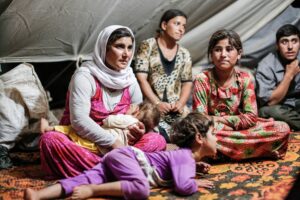 This year the USCCB's Migration and Refugee Services celebrates the 15 year anniversary of the Justice for Immigrants (JFI) Campaign. We have put together a resource titled Justice for Immigrants: Migration Policy Priorities for a New Decade that can be found in both English and Español.
We are hosting a webinar series (register here) that will focus on key areas of migration policy for the purpose of educating Catholics and others of goodwill on some of the key moral and political issues in this arena. Each Wednesday at 2:00 PM Eastern, from September 30th – November 12th,, we will hold a webinar that will focus on a distinct issue in the migration field.  In these webinars we will explore some of the current hopes and challenges in our effort to influence policy with the light of the Gospel of Jesus Christ. We will discuss ways in which we can move forward together as a Church to ensure that migration policies more adequately reflect Catholic social teaching. We will examine how the upcoming election might affect our work as a people seeking to uphold migrant dignity. The attached program will provide more information on each webinar and will be updated as they are finalized.
Given the timing of the election, we will not be holding a webinar on Wednesday, November 4. Due to Veteran's Day, the final webinar will take place on Thursday, November 12th
Register for the webinars here.