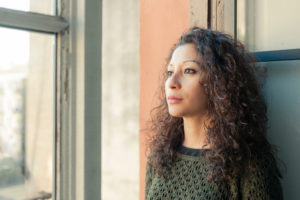 Surviving Human Trafficking:  My Long Journey toward Healing
My name is Lidia* and I came to the United States from San Pedro Sula, Honduras. I had to leave my home for many reasons, including abuse from family and strangers as a child, fear of dying from gangs who believe that gay people do not have the right to exist, and a future without opportunities to study.
The biggest hurdle to rebuilding my life is being unable to work to my full capacity.  When I was trafficked, I not only had emotional injuries but physical ones too.  They [the traffickers] put my life in danger by injecting chemicals into my body. This requires many surgeries [plastic surgery] to remove them.  Thanks to the nonprofit organization Face Forward in Los Angeles, I was able to have several surgeries.  Unfortunately, I still need more so that my health improves.
I also received support from Catholic Charities of Galveston – Houston.  They helped me economically and emotionally. They did everything in their power to make sure I felt safe and taught me that my life has meaning.  It makes me happy that they always treated me with respect, regardless of my sexual orientation.   I am still in contact with Catholic Charities through a program that helps me to find work. Due to the world pandemic we are living in, they are also helping me with services like rent and food support.
On the World Day against Trafficking in Persons (July 30), I have a message for people who want to fight this crime.  First, you can work to expose the myths. Many people think that victims are only women and lack education. But there are men and boys, and people with formal studies, who are also trafficked. And traffickers are not exclusively men.  There are women that exploit people for profit too.
Second, teach children from a very young age how to say safe and to recognize traffickers. You can also help anti-human trafficking organizations, advocate for more therapy services for victims, and do everything you can to let them know that they are not alone.  When a person escapes, he or she feels terrible and more alone than anyone else on the planet.  To this day, I cannot be by myself. I must leave the light on when I go to sleep. If I don't, I feel like someone is going to enter my room.
My biggest dream is to be completely healthy so I can begin to live my life fully, work and be independent.  I want to graduate from nursing school to give back just a little of all that life has given me.
I am very glad there are organizations like Catholic Charities of Houston who care about those most in need. I would also like to give thanks to everyone taking the time to learn and to ask questions.  I am grateful to every person in my life that has helped to make it happier.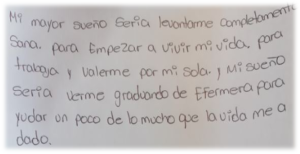 This testimony is a translation of Spanish excerpts from written responses provided to USCCB/MRS.  Author's name has been changed for safety reasons.
---
"COVID-19: We are all in it together"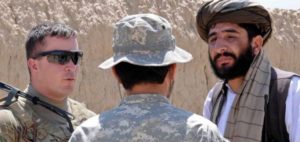 For World Refugee Day and for the 40th Anniversary of the U.S. Refugee Resettlement Program, we feature Ahmad who was resettled from Afghanistan to Virginia. From the beginning of the US refugee program, among those protected by resettlement have been people like Ahmad. People who worked with the U.S. military or humanitarian missions in their countries and became targets of persecution, such as the program's initial refugees from Southeast Asia.
Ahmad, a native of Afghanistan, began work with the U.S. Army as a machine operator and tailor in his country making military uniforms and fitting them for U.S. personnel.  He went on to work as a security specialist, interpreter and driver for the U.S. Department of State, Department of Defense, and Army. His later work became very dangerous, not only for himself but for his family.  When his children used to go to school in Afghanistan, he began to fear that they would not come home at the end of the day. He and his family became targets for anti-American groups in Afghanistan.
About four years ago he left those dangers behind and moved with his family to Virginia after the U.S. Government approved him as an Afghan Special Immigrant.  He was resettled with the help of the Commonwealth Catholic Charities of Newport News, Virginia.
The Catholic Charities employment specialist did a usual thorough review with Ahmad of his work experience and possible transferable skills. It became clear that his earlier experience in Afghanistan as a machine operator, his interpersonal skills and language ability, his experience with teamwork, and his strong work ethic put him in a good position to work with a local company, Burlington Medical, that makes medical and surgical equipment.
Over his nearly four years with the company, he learned to operate numerous machines and also expand his work and expertise into the shipping functions of the company. He and his work colleagues at Burlington Medical are all contributing to efforts to halt and mitigate the effects of COVID-19.
He is thankful for his life in America being safe for his wife and children. He is also pleased that his work contributes to the health profession, and more recently to making people safe from COVID-19.  He views his effort to help as part of his responsibility as a member of the community.
This "Face of Migration" is based on a feature about Ahmad on his employer's website that was shared with JFI by Commonwealth Catholic Charities of Newport News.
——————————————————————————————-
My Personal Migration Story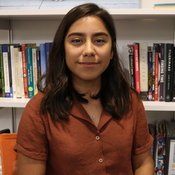 The economic collapse of the Juarez, Mexico where I was born, was dire when my parents set a plan in motion to seek a better life in the U.S. I was three. Poverty was increasing, crime too. My father made frequent trips into the U.S to work to supplement my family's income, but this was unsustainable, not to mention hard on our family. Soon enough, the choice was made to bring us up further North, to Oregon. We settled into a largely immigrant community in the suburbs of Portland. My parents worked hard to provide my siblings and me with a well-rounded education and encouraged us to apply ourselves in our studies. They taught us to be self-sufficient and critical of injustices, and in the undercurrent of their stories of tilling the soil in el rancho, how to be good stewards of the earth. In a way, they were warning us about the exploits of capitalism and corruption, which had uprooted them from their hometowns and cast them on the restless search for a better life.
In 2011, my mother was arrested and detained by CBP a couple of miles from the border during a Greyhound bus sweep. She was attempting to reunite with us after she made a visit to my ailing grandmother, her only visit in over a decade. Her return was marked by difficulties. However, an incredible attorney agreed to take her case and helped us fight her deportation. 
I was fortunate to apply for DACA when it was announced. DACA was a lifeline and instrumental in helping me attain an education. In college, I started on a path of political activism and community service. It led to NETWORK Lobby where I currently work as a Government Relations Associate. I am using my experience with the immigration system as a young activist and DACA recipient to be outspoken in denouncing racism and demanding changes to systems that perpetuate poverty, violence, and oppression for Black and people of color.
We all have a stake in dismantling systems of oppression; otherwise, we allow horrible injustices to go unchecked. The recent tragedy of George Floyd's murder at the hands of law enforcement comes to mind. Like countless other Black Americans, George died a victim of racialized policing. These moments have cast new light on the devaluation of Black lives in our society. It further crystallizes the need for demanding structural reform and accountability for instances of abuse of power. If we are to seek justice in every channel of life, we must strive to understand the intersectionality of race and politics and have the courage to challenge these injustices head-on. 
People with privilege can build authentic relationships and join in solidarity with Black, Indigenous and People of Color by devoting time to understanding the structural and root causes of racial inequality, listening to Black leaders of this movement, and contributing to bail and immigration bond funds so no one has to suffer being separated from their loved ones.
— Giovana Oaxaca is a DACA recipent and a current Government Relations Associate at NETWORK Lobby, a JFI core member organization, in Washington, DC
——————————————————————————————-
Bearing Witness to Migrants in Matamoros, Mexico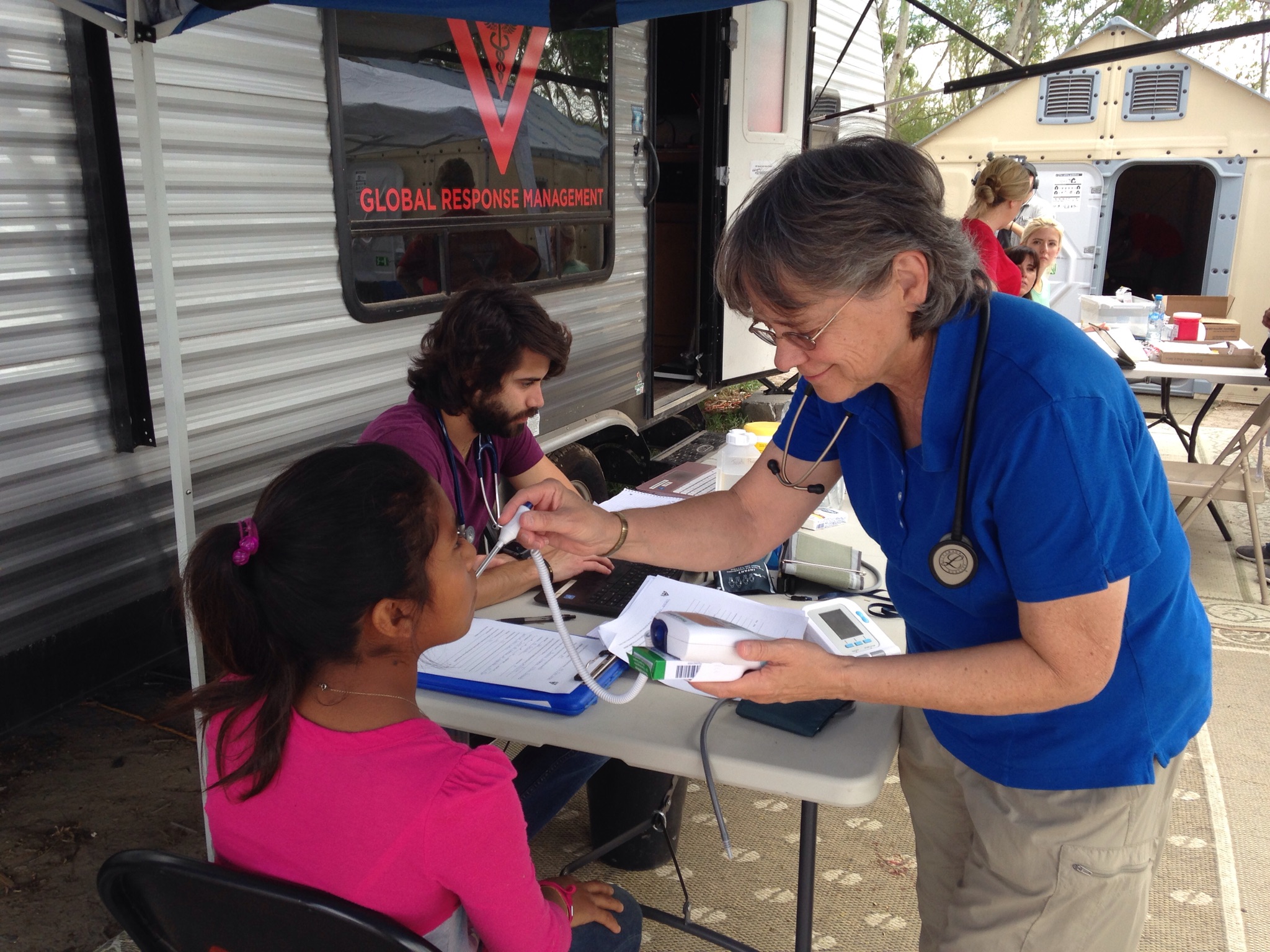 It's hard to know where to begin because the pie of my experience over the last few months has been divided into different emotional pieces. Half of the people I've seen coming to us at our volunteer health facility in Matamoros are children, more than a third are women and the rest are men. Interestingly, I've seen more instances of a mom or dad with a child or children rather than whole family units.
Most of the migrants are from Central America, but I have met some from Cuba and Peru. The Central American migrants tell stories of gang violence and of how much power the gangs have in the neighborhoods and countryside. A woman shared her story of having to flee with just the clothes on her back because gang members threatened to kill her and burn down her store. Some stories shared were even worse.
Babies have been kidnapped for adoption. Boys are kidnapped by the gangs to serve as new members. Someone shared the story of younger children being kidnapped in order to have their organs harvested. In this case, children playing and running are targeted because they appear the most healthy. It has become clear to me that families fleeing for their safety, particularly for the kids, are the purest demonstration of parental love.
The way the U.S. government is responding to people hoping for refuge should not be happening. Americans shouldn't be allowing this to happen to other human beings. We need to understand that these migrants are not a threat to anyone. In my interactions with these people they have been respectful and genuinely grateful for everything, no matter how small, that we offer. It has been my honor to bear witness to them that someone cares.
If I have one request for my fellow American Catholics, it is to come see for yourself the plight of these migrants. Come see and realize that these are the children of God seeking a home. These are good people and, please, allow them the chance to prove it to you. And for priests, please come see that these are your sheep waiting to enter the gates of the garden.
— Sr. Jacinta Powers
——————————————————————————————-
Laces and Faces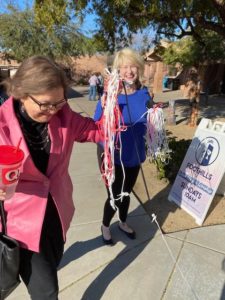 Just back from Arizona and I want to share these images for a "first effort" at using the imagery of laces, suggested in the statement by 31 border shelters just before Christmas.
In Sunday School, our Glendale, AZ congregation helped tie together 56 laces, each representing 1000 of the 56,000 migrants returned across the border under MPP. They then carried in the "line of laces" and draped them around the sanctuary, in a way to demonstrate how many lives are impacted.
Why are shoelaces an important symbol to show our support for asylum seekers being kept away from needed protection under "MPP"? The Dec. 2019 statement from the network of border shelters on the U.S. side explains it best:
"As border shelters, we are ready to provide places of safety and welcome to asylum seekers. We know that when the U.S. government returns families to Mexico to await court dates, the process of return identifies them as targets for organized crime and heightens their risk of trafficking. U.S. officials remove asylum seekers' shoelaces purportedly so that they don't harm themselves while in detention. But when they're sent back to Mexico, the cartels identify families with missing shoelaces as easy prey for kidnapping and trafficking. These unintended ties between U.S. border policy and cartel violence harm families and strengthen organized crime. According to Human Rights First, there are 636 publicly reported cases of violent attacks against asylum seekers returned under MPP, and the vast majority of such attacks are not reported. We know from our firsthand experience that we can avoid feeding such violence by allowing families to seek asylum from within the U.S., instead of returning them to Mexico….We, the representatives of 31 shelters are ready and eager to welcome asylum-seeking families."
Faith Communities have also seen and understand the importance of Shoelaces, and their connections with asylum seekers:
When we visited one of the border-bridges that links El Paso to Ciudad Juarez, our host took us to a receiving area run by Mexican immigration authorities. There we had the opportunity to greet Central Americans being returned from El Paso where their plea for safety for themselves and their children fell on deaf ears. Almost to a person they were turned back and would be forced to remain in Mexico until their scheduled day in court. It might be 6 weeks, even 6 months or longer before they had their chance to make their case for asylum.
They came into the tent with nothing; all their belongings, including their shoelaces, having been taken from them by U.S. Customs and border protection.….We offered clothing, toiletries, diapers for the babies and scrunchies for the little girls. By far and away, the most popular item was shoelaces…..Migrants stuck in Mexico are easy prey for the unscrupulous, the human traffickers, and the criminal syndicates."
—Ann Scholz, SSND, PhD, Associate Director for Social Mission, Leadership Council of Women Religious.
"MPP adds one more layer to the injustices that strip away the dignity of asylum seeking families. It sends people back into Mexico more vulnerable than when they presented themselves at the U.S. border, as U.S. officials send them back with their belongings in plastic bags and no shoelaces (shoelaces, bras, and belts are taken from them in custody), making them easily identifiable to those who wish to extort them. We must speak out against this policy, because our faith claims something different—that every individual is created as good and valuable, because we are created in the image of God. Our faith affirms the sanctity of every life.
   — Rev. Ailsa Guardiola González, Pastor, First Christian Church, Tucson, AZ
For more info., go to: www.Faith4Asylum.com, hold vigils in your area, and ACT ! #Faith4Asylum
By Rev. Dr. Sharon Stanley-Rea
Director, Disciples Refugee & Immigration Ministries

——————————————————————————————-
In June 2012, the Obama administration established the Deferred Action for Childhood Arrivals program, which provided work authorization and a temporary reprieve from deportation to eligible undocumented young immigrants who had arrived in the U.S. as minors. Hundreds of thousands of youth applied for the program, which required providing extensive evidence of identity, age, residence, education, and good moral character. The program allowed recipients to pursue higher education and to access more and better job opportunities. A new paper from the Center for Migration Studies of New York provides a statistical portrait of DACA recipients and highlights the benefits of the program. It finds that DACA recipients are an extremely diverse group, who are well-rooted in the country and in their local communities through their work, family, education and other ties to the U.S. Specifically, it reports:
·         As of September 30, 2019, there were 652,880 active DACA recipients.
·         66% of recipients are between the ages of 21 and 30.
·         The top countries of birth for DACA recipients are Mexico (80%), El Salvador (4%), Guatemala (3%), and Honduras (2%).
·        DACA recipients reside in all 50 states, Washington, DC, and in U.S. territories.
·       The top five states with the highest number of DACA recipients are California (29%), Texas (17%), Illinois (5%), New York (4%), and Florida (4%).
·         81% of DACA recipients have lived in the United States for more than 15 years.
·         6% are married to U.S. citizens, 4% to lawful permanent residents, and 13% to undocumented immigrants.
·         346,455 US-born children under the age of 18 have at least one DACA parent.
·         55% of DACA recipients graduated from high school, 36% have some college education, and 7% a bachelor's degree or higher.
·         83% are in the labor force, and of this pool 95% are employed.
The paper also provides testimonies from DACA recipients who recount how the program improved their lives and their concerns over its possible termination. "I'm proud to be one of the first people in my family to go to college," said a 23-year-old DACA recipient from Brooklyn, NY. "DACA has changed my life, and I hope that it doesn't end with DACA."
The Trump administration rescinded the DACA program in September 2017, leaving recipients and their families in a legal limbo. Federal litigation led to a nationwide preliminary injunction and DACA's partial reinstatement. Existing recipients can renew, but no new applicants have been able to apply. The case is now before the U.S. Supreme Court to determine the program's fate. Daniela Alulema, who wrote the CMS report on DACA, said, "Undocumented young immigrants have grown up, studied, worked, and started families. This report reveals who DACA recipients are – young people who are Americans in every way but legal status."
The paper argues for the passage of legislation that would create a path to citizenship for DACA recipients and programs and policies to support and empower young immigrants. "The only viable course for our nation is to preserve the program and for Congress and the administration to create a path to citizenship for these young Americans," said CMS Executive Director Donald Kerwin.
Read the CMS Report on DACA.
——————————————————————————————-
US – Mexico Border Drama: Threatened with Resurrection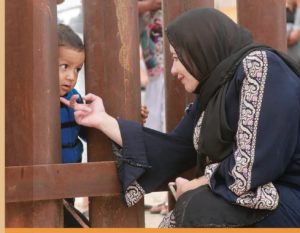 On 10/12/19, at the U.S.–Mexico border where a bridge divides the sister cities El Paso and Juarez, Mexico, the waters of the Rio Grande flow below. Under the afternoon sun, 200 people of all ages, lay and religious, Latino and Anglo, crossed by the CBP agents guarding the bridge and turning back asylum seekers fleeing from violence and persecution in Central America. Our group were participants in a Teach-In for Justice and came from across the U.S to offer solidarity with the border communities.
Small tents lined the street at the foot of the bridge on the Mexico side, and under each tent families and children peeked out at us. They are the faces of the latest attempt by the Administration to discourage and effectively deny the right of asylum to those who are fleeing violence and persecution in their home countries, what is called by our government as the "Migrant Protection Protocols."
In his 2017 pastoral letter on migration, "Sorrow and Mourning Flee Away," Bishop Mark Seitz offered his analysis of the drama on the U.S.–Mexico border, in the light of the Gospel: "Our broken system of immigration is a wound on this border community. It is a scandal to the Body of Christ in El Paso." The letter is prophetic and hopeful: "As a community deeply shaped by the reality of migration, we celebrate our strengths and unique identity … even when others would belittle the contribution of migrants and falsely portray the reality of the border."
Now, two years later, the bishop issued a new pastoral letter, "Night Will Be No More," signing the letter at the closing Mass of the "Teach-In for Justice." While the tone of these two letters has changed from "joy and gladness … when sorrow and mourning flee away" to a more sobering "night will be no more," the message remains a prophetic one: "We must recommit ourselves to the hospitality and compassion that characterized our community long before we were attacked."
Specifically, the pastoral letter calls on our nation's leaders to "halt the deportation of all those who are not a danger to our communities, to stop the separation of families, and to end once and for all the turning back of refugees and death at the border."
These are troubling times we live in, but for Christians the last word is not one of crucifixion and death, but rather resurrection and life. In Bishop Seitz's words, "The burden of the history of injustice on the border is heavy. We must wrestle deeply with this legacy, lament over it passionately, confront our own biases and repudiate racism completely."
The Teach-In for Justice was hopeful but challenging. There is a sense of urgency and drama at the U.S.–Mexico border. Human dignity is at stake, both the dignity of migrants and refugees asking for asylum, as well as our own human dignity calling us to solidarity and hospitality. It is a matter, not only of charity, but also of justice.
By Scott Wright
Director, Columban Center for Advocacy and Outreach
– – – – – – – – – – – – – – – – – – – – – – – – – – – – – – – – – – – – – – – – – – – – – – – – – – – – – – – – –
Waiting and Praying for Protection: Migrant Families Caught Up In MPP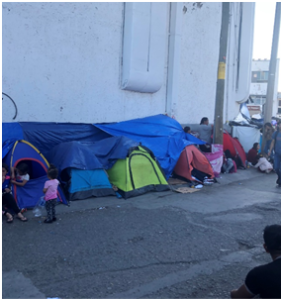 I crossed the footbridge from El Paso into downtown Juarez, and the effects of the U.S.' metering policy were immediately apparent. To my left was a community of tents, makeshift homes for the dozens of Mexican nationals who had been living there, some for as long as 20 days, while they waited for their turn to seek refuge in the U.S. Under "metering", only a certain number of individuals seeking asylum in the United States are permitted to present themselves per day. When I encountered this group, it had been three days since the last family was allowed to cross, and they were growing desperate and defeated. The families were waiting in the sun, on a busy street; some of them had children who were playing on the street, oblivious to the filth of the city roads and the dangerous conditions around them. When I returned the next day, it was cold. Employees of the state were recruiting people to move to a shelter ahead of a winter advisory, but most were reluctant, afraid to lose their place in line and their opportunity to start their asylum process.
In addition to metering, some migrants are facing the consequences of the Migrant Protection Protocol (MPP). Under MPP, migrant families, many with small children, will be waiting in Mexico through the duration of their immigration proceedings, a process which could last months, all because they are attempting to ask for protection and a better life. As a volunteer with CLINIC, who has been working in Juarez since mid-August, I visited some of the spaces and shelters for migrants subject to MPP. I was struck by the sense of vulnerability in the very spaces meant to offer refuge to asylum-seekers who are already fleeing from dangerous countries and violence. It is clear that Central American migrants are being targeted in Mexico and the stories I heard from families in Juarez further confirmed this. In one of the shelters in the area of Anapra, I heard a story of masked men entering the premises at night, fleeing only when the children playing in the yard began to scream. Regrettably, this was not an isolated incident. Some of the families I met arrived over the summer but did not have hearings until December. One of the families I spoke with said they know they are being "watched" and try to be cautious. Every day is one more day of endless waiting, anxiety and trying to stay alive. Until their court dates, all they can do is wait in danger and pray for protection.
I visited a home where five asylum-seeking women are staying. We talked about their time in Juarez and they mentioned not going out for walks past a certain hour, how they'd visited an observatory, but left promptly when they realized they were alone and felt unsafe. While I was there, they welcomed me into their home, sharing their food and lives with me; I colored and played with their little girls. It was difficult to leave them, not knowing what their fate would be. I returned to the bridge before the sun went down and the area became less safe, more aware than ever that this was not a possibility for many families that I had seen suffering and waiting.
Celina Marquez
– – – – – – – – – – – – – – – – – – – – – – – – – – – – – – – – – – – – – – – – – – – – – – – – – – – – – – – – –
"The Bravest People I Know" – Unaccompanied Minors Resettled From Niger to the U.S.


Tedros and his cousin Yorusalem arrived in Salt Lake City in late 2018 when they were still underage; they left Eritrea in July 2016, travelling to Libya via Sudan. They belong to a group of unaccompanied minors and vulnerable people who were evacuated out of Libya to Niamey, Niger's capital, where they underwent a long, strict interview and vetting procedure before being resettled to the U.S.
Tedros and Yorusalem attend a local Salt Lake City school and are working hard to learn English. "I like to watch movies, comedies especially. That helps with learning the language," says Yorusalem.
The teenagers participate in sport activities. Yorusalem is a soccer fan and practices twice a week. Tedros is a biking fan and loves to cycle himself.
One of the strangest experiences for them was their first contact with the food in the U.S. "When we arrived, our mum took us for burgers and pizza. It was very strange; it tasted a little bit too sweet. But now we have adapted, and I even like cheese pizza," laughs Tedros.
"I teach them English, they teach me Tigrinya. And thanks to them I've tasted so many amazing Eritrean meals," says foster mom Natalie, a social worker who loves her multicultural home. "I've always been interested in other cultures, so fostering unaccompanied minors coming from outside the U.S. seemed like a natural step. I also love meeting Tedros' and Yorusalem's friends and families from other communities. Everybody is welcome in my house."
The USCCB, in coordination with the U.S. State Department and the Department of Health and Human Services, works with local organizations to find foster families for resettled unaccompanied minors. Catholic Community Services of Utah is USCCB's local partner, responsible for matching families and minors.
"What I miss most about Eritrea is my family," says Tedros, and Yorusalem concurs. For both, many of their relatives are still in Eritrea. "But we can talk to them on the phone from here."
"I am not sure yet about what I want to do, but I am set on continuing my education," says Yorusalem. Tedros's goal is to become a pharmacist.
"This experience has been amazing, and I receive a lot of support from CCS. These kids are incredible and having them with me brings meaning to my life," says Natalie. She is determined to continue receiving teenagers. "They are great," Natalie says matter-of-factly.
Read the entire, longer story on the website of the International Catholic Migration Commission.
– – – – – – – – – – – – – – – – – – – – – – – – – – – – – – – – – – – – – – – – – – – – – – – – – – – – – – – – –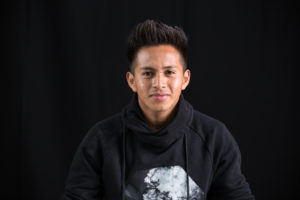 My name is Eybi and I'm from Guatemala. I'm 15 years old, and came to the United States four years ago to be with my parents. I was 11 months old when my dad left for the U.S. and 2 years old when my mom left to join my father. After my mom left I went to live with my grandparents. When my parents left there was no way to communicate with them because phones there were so expensive, so my parents would have to write a card and send it to Guatemala. Things in Guatemala after my mom left were very difficult because my grandparents didn't have much money.
My parents came to the U.S. because they wanted to give me a better life and education and they didn't have good jobs in Guatemala. When my dad and mom first arrived, they struggled a lot because they couldn't speak the language and didn't know many people. The reason why I came was because I wanted to be with my parents, to learn English, and to have more opportunities in my life.
I left Guatemala on March 30, 2015 and arrived in the U.S. on April 15th. The day I left was a hard day. I always had to do a lot of work and never got to go to school. When I got home I saw my Auntie, she was taking care of me while my parents were gone. She was waiting for me and in her hand, she had a metal stick. I got scared. She called me over and started hitting me. That was nothing new, she used to hit me every day and my life there had become a nightmare. I started crying and my neighbor saw me and said, "I'm going to go where your mom and dad are. Do you want to come with me?" I said "yes, yes please", crying but at the same time happy. I ran and got some papers and clothes. I was happy, my neighbor told me, "hurry we are leaving." Two days later I asked where we were, and he said we were in Mexico. I asked, "are we close to getting there" and he said, "no, now we have to walk." I was used to walking but I didn't know that we were going to walk that much. I don't know how much we walked, we walked until night then we would hide and fall asleep. We didn't sleep that much, just started walking again. We did the same thing day after day.
My first day in the U.S. and when I first saw my mom, I was surprised because I didn't really know her that well and she didn't know me well either. When I was in Guatemala I always wondered how it felt to have parents, but I never said anything because I thought that I was going to hurt my grandparents' feelings. It was weird for me because so much time had passed, and I had a brother that I didn't even know and he was already 7 years old. My first night with them I was already thinking, when am I going back to Guatemala? It took me time to adjust, but my parents were very happy that our family finally was complete.
To learn more about how you can support immigrants and unaccompanied minors like Eybi, please visit the CARE Program webpage on the JFI website.
– – – – – – – – – – – – – – – – – – – – – – – – – – – – – – – – – – – – – – – – – – – – – – – – – – – – – – – – –
Refugee resettlement in the NW corner of the U.S.: "An honor and a privilege"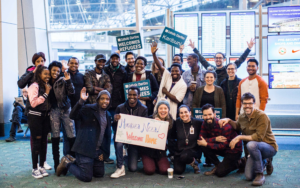 Matthew Westerbeck (right end of the bottom row) at work at Portland International Airport
Catholic Charities of Oregon has been resettling refugees since the end of WWII. Every few weeks we welcome the world's most vulnerable as our newest neighbors. Most families we help have been in refugee camps for over a decade. Many have been waiting to resettle to the United States for more than 20 years.
Persecuted and driven from their homes for reasons of race, ethnicity, membership in a social group, political opinion or religion, these families have passed the most rigorous security screening to enter our country. Often, the majority of their children have been born in refugee camps. Looking ahead, I fear that we are welcoming our last refugee families to the U.S., and to Oregon, and that we will no longer continue to be a country of refuge.
As Program Manger for Refugee Services, I have the incredible honor of working with a team of dedicated volunteers and social workers. Our team welcomes the stranger and walks alongside newly- and recently-arrived refugee families as they rebuild their lives. We have just a few weeks to prepare for an arrival and we must find and furnish housing. With teams of volunteers we accomplish move-ins in just hours. Many of those volunteers will be at the airport to welcome the family. These airport greetings show arriving families that they are welcomed and appreciated in the U.S. The rhetoric that refugees are not wanted here has made its way to the refugee camps. We've had families scared to walk off the plane due to that rhetoric.
Upon arrival, our staff have 30 days to perform the following with refugee families: home orientation and safety; provide a 10-course curriculum on Cultural Orientation; assist in enrolling the children in school; enroll the adults in ESL classes and employment services; help the family learn to use mass transit; ensure everyone receives medical care and screenings; help get a state ID and apply for Social Security cards; assist young men sign up for Selective Service; help learn grocery shopping; help write a resume and apply for jobs; help sign up for a bank account; teach how to pay utility bills; provide instruction for paying back the loan for their airfare to the U.S.; educate on who to call if there's an emergency; help creating a budget with unfamiliar currency; etc.
Our team strives daily to embody welcoming the stranger and providing refuge. We walk alongside our newest neighbors as they rebuild their lives and provide better lives for their children. Their kids will enter college at the same rates as U.S.-born children born. Most of their children will have higher household incomes than the average U.S. family. Refugees will open businesses at a higher rate than for the native-born population. And more important than the strength they add to our communities as economic contributors is the connection we all share. We are all sisters and brothers. We can't forget this simple teaching. As a part of the amazing Refugee Services team at Catholic Charities, I am reminded of this daily. It is an honor and a privilege to share in this work.
Matthew Westerbeck
Catholic Charities of Oregon
– – – – – – – – – – – – – – – – – – – – – – – – – – – – – – – – – – – – – – – – – – – – – – – – – – – – – – – – –
Welcoming and Serving the Migrant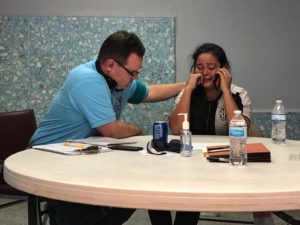 Deacon Chris Gutiérrez volunteering in the Diocese of Laredo
In the gospel passage of Luke chapter 16, we hear the story of the rich man and Lazarus. It is a story that reminds all of us of the great divide between what seems to be heaven and hell. A story with a stern warning about those who enjoy of all the pomp and excesses in this life, while others suffer immensely on earth, especially because of the indifference of others.
I live in the middle of the country in the Diocese of Owensboro, Kentucky. I was recently privileged to have had the opportunity to serve for one week as a volunteer at the border in the Diocese of Laredo, Texas, helping at their Catholic Charities shelter welcoming and serving many Central American families. Almost nonstop from 9am-10pm, my primary job throughout the week was to call their family members or contact person in the interior for them to purchase either a bus or plane ticket for them to continue on to their final destination in the U.S. The most impactful and emotional moment of these calls is when I would hand them the phone for them to let their family know they were alive and free in a Catholic shelter. "I'm alive, I've made it!" Often both sides of the line and myself would break down in tears of relief.
Throughout my week-long experience, I could not help but think often of this passage. In my more than 15 years working in Hispanic/Latino ministry in the Church, I have accompanied and have heard countless stories of the plight of immigrants including that of my own father, but to listen to someone's such recent trauma in its raw form, right on the spot, was very different. I will be forever grateful to God for giving me this opportunity not only to cry with, to embrace, to feed, to clothe, to console and to recover some sense of dignity, but also to experience the face and true presence of Jesus Christ in so many Lazaruses. Many of our border dioceses in the country continue to be in desperate need of volunteers and donations. If you answer the call, your life will never be the same. God Bless!
Deacon Chris Gutiérrez
Diocese of Owensboro
– – – – – – – – – – – – – – – – – – – – – – – – – – – – – – – – – – – – – – – – – – – – – – – – – – – – – – – – –
Out of a Moment of Suffering, Grace Overflows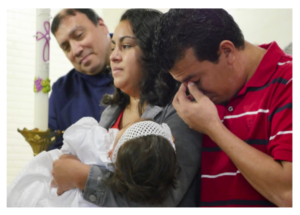 Since April 2019, Catholic Charities of Laredo has provided humanitarian care for migrants at San Francisco Javier Church and Catholic Charities' La Frontera Shelter. "We never imagined this place would be so wonderful," Eduardo said as he balanced his daughter, Kiara, on his knee. "The attention Catholic Charities gave us was beautiful," continued his wife, Karen.
Eduardo left the Catholic Church years ago, and Karen's faith was running on empty when they arrived in the United States as migrants from Honduras, but recalling their journey was nothing short of complicated. "One suffers," Eduardo said, "but out of a moment of suffering, many blessings came."
In Honduras, Eduardo was an experienced truck driver. During one fateful trip, his truck was stolen. Going against the criminals' demands, he filed a police report. The criminals found him at home, threatening him with violence. Eduardo and Karen decided to sell everything and choose to flee the life they knew.
By the time they reached Guatemala, Kiara had caught the stomach flu which tempted them to return. Borrowing a phone, Eduardo spoke with their neighbors only to learn that hours after they fled, their former home was attacked in a drive-by shooting. "That's when we knew we couldn't go back," Eduardo said.
They eventually made it to Eagle Pass, but for eleven days, the family was separated by ICE and Border Patrol. Once reunited, they were transported to Laredo where they were faced with one uncertainty – how to pay for bus tickets to their final destination, Los Angeles. Much to Eduardo's surprise, an anonymous donor from San Vicente de Paul Church offered to purchase the bus tickets. The donor left them with one request. He told Eduardo, "Once you are working and someone comes to you for help if you are able, help. Never stop serving others."
Karen approached a Catholic Charities volunteer, whom they called Thelmita, and asked if they could present their daughter to receive a blessing during Sunday Mass which led to a discussion about baptism. Karen and Eduardo were in favor. With the guidance of the pastor of San Francisco Javier, everyone got to work to prepare for Sunday and volunteers from Catholic Charities were chosen to be Godparents.
"It was a beautiful moment! I got goosebumps from head to toe. Thelmita was on the verge of tears! It was a miracle the way the Lord knew that on that day there would be a baptism," Karen said as her husband began wiping tears from his cheeks.
Although they faced immense hardships as migrants, the true experience proved to be a journey of the soul.
Read the entire, longer story at La Fe, The Magazine of the Catholic Diocese of Laredo.
– – – – – – – – – – – – – – – – – – – – – – – – – – – – – – – – – – – – – – – – – – – – – – – – – – – – – – – – –
AJ's personal reflection in thinking about his own migration story
The funny thing about immigration is that I'm not sure most of us would be able to tell you exactly what we arrived with when making it to America. In 1988, I was five years old which makes my memory especially hazy. I know that I came with my mother and my sister. My brother, just a little over two years old, would stay behind in the Philippines for a few more months, and my father was already here – his job as an aircraft mechanic being the trigger that started this big move for our family.
I can remember things like the stereotypical bowl cuts that my brother and I wore as kids. I can remember the smell of the bakery behind our first apartment. I can remember the names of our first neighbors. But I couldn't tell you what I chose to bring with me from the Philippines.
What I can say, with certainty, is what I left behind. I think a lot about how immigrants necessarily forsake their family and best friends, mother tongue, and even comforting foods and smells because the things that drive us from home – lack of opportunity, security, or as in the case of my family, the only option to keep our family together – are stronger than the foundational things native-born people take for granted.
This reflection has been in the back of my mind as the father of a wonderful and joyous one-and-a-half-year-old daughter. The amount of love and support we've received from my mom and my in-laws has been invaluable and makes me stand in awe of how my own mother managed to raise three children without her siblings or father around to help.
I thought about this last week as I watched my daughter play with my mother, a scene that I know my own mother did not have the luxury of witnessing for her own children. I think about this now, a little over 24 hours of learning that my own grandfather (Lolo in Tagalog), my mother's father, has just passed away.
The story of migration, like any human endeavor that transcends nations and borders, is complex. The paradox is that it is also rather simple: people leave their homes and the ones they love because the place that holds the best promise at living a secure and peaceful life, exists elsewhere. So, we make choices that necessarily mean no cliched summer vacations to Grandma (Lola in Tagalog) and Grandpa's. That necessarily mean learning to love one's Lolo via a telephone line that bridges the vast ocean between you, if only for a moment.
We would do well to remember these small sacrifices, I think. Because it isn't always a given that one person would choose to leave. There are many reasons to consider re-locating from the region where I live – better weather and better air quality, for one, exist elsewhere – but I haven't yet met a cost or upside that can push the value of a heart filled by watching your own child experience a moment that you could not get.
My daughter will know her Lola's voice and corny humor and overwhelming energy. And she will know grow to know that love intimately. A true blessing.
– – – – – – – – – – – – – – – – – – – – – – – – – – – – – – – – – – – – – – – – – – – – – – – – – – – – – – – – –
Rosaura's story: Perseverance and love helps to make it through life challenges and adversity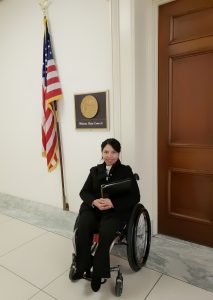 I was born in Tijuana and at age four became paralyzed from the waist down. Soon after, my mother sought a cure for me to walk again. Unfortunately, my father was not supportive and instead constantly beat us while tormenting my mother by telling her that without him she would never see me walk again.
My mother found a doctor in Tijuana who told her I could possibly walk again with the help of braces and physical therapy. An aunt was willing to provide some money, but when my mother asked my father to provide the rest he responded by beating us again. He said even if he had the money he would never waste it on something like that. Hurt and disappointed she left him to find a way to help me get the braces. I was six at that time.
She entered the U.S., worked in California's Central Valley fields, and found treatment for me at Shriners hospitals. From my accident to age eight I lived traveling between Los Angeles and Tijuana to receive treatments and live with my aunt in Tijuana.
I depended entirely on others for everything. I crawled on the ground to play with other kids because we could not afford a wheelchair. But I was a happy child with dreams of one day becoming a surgeon or a lawyer. Even though I never attended school my aunt taught me the basics in reading, writing, and math.
One day my mother decided to bring me with her to work in the Central Valley. I remember being happy, but I did not know that over the next few years I would sleep and live in a car parked in different fields while I waited for my mother to finish working in one of the farms.
Years later we settled in Northern California and I started in the sixth grade. But my struggles continued. I was sexually assaulted when I was a teenager. Later, I got a skin infection that required surgery and to use a wheelchair full-time. I persisted and completed high school between surgeries, hospital beds, and bed rest.
At age 21 my medical coverage ended while I still dealt with the aftermath of the life-threatening infection. I started college after high school, but paused my studies for a decade because of my health inability to cover tuition.
When DACA was announced, I was devastated because I was a year too old to qualify. But I found out about and applied for a U-Visa, which was approved. Now, almost 42 years old, I'm nine months away from applying for U.S. citizenship and about to complete my BA in Communications with a minor in Criminology.
– – – – – – – – – – – – – – – – – – – – – – – – – – – – – – – – – – – – – – – – – – – – – – – – – – – – – – – – –
Catholics in Indianapolis Participate in Accompaniment and Learn About the CARE Program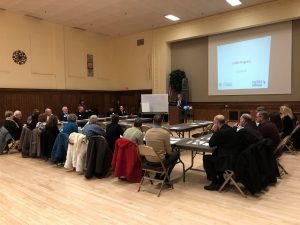 On January 29, 2019, the Archdiocese of Indianapolis held a parish leadership convening on the Catholic Accompaniment and Reflection Experience (CARE) program. The CARE program is a new pilot initiative launched by the USCCB/MRS in the fall of 2018 and it is committed to connecting Catholic volunteers and men and women religious to undocumented individuals, unaccompanied children, and their families who are in need of accompaniment and support in their community.
At the convening, faith leaders from across the Archdiocese learned how their parishes could get involved in the accompaniment and support of immigrants and their families and listened to stories of individuals who have experienced accompaniment. Horacio Galvez Garcia, a parishioner at St. Philip Neri in Indianapolis, was one of those individuals who shared his experiences with accompaniment.
Horacio has been living in the U.S. for the past 17 years with his grandmother who raised him since he was three months old. Last February, ICE agents came to his door and detained him. Horacio's grandmother had passed away one month prior to being detained and he found it difficult to remain positive and hopeful about what his future might be while in detention. Members of his local community and parish rallied around him and made sure they were present at his court hearings even though Horacio was only allowed to appear for his hearings on video from inside the detention center. Eventually, he was released from detention and allowed to return to his Indianapolis home. Horacio said the support he received from his community and parish during those hearings and throughout his detention helped him to maintain hope that he would soon be released.
Across the country, an increasing number of undocumented individuals are becoming more afraid to engage in daily life for fear of being apprehended and separated from their family and community. The CARE program aims to foster a space of solidarity and encounter, and to help facilitate a larger accompaniment movement to ensure that individuals like Horacio never have to face their immigration proceedings alone and that each person is supported every step of the way. If you want to learn more about the CARE program and accompaniment, please see the CARE page on the JFI website.
– – – – – – – – – – – – – – – – – – – – – – – – – – – – – – – – – – – – – – – – – – – – – – – – – – – – – – – – –
Migration Stories Increase Awareness at Washington State Catholic Parish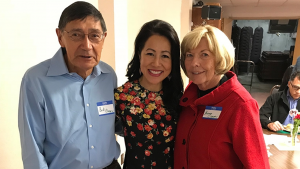 Four decades ago, members of St. Michael Parish helped the Pham family, refugees who escaped Vietnam by boat and were rescued by the U.S. Navy, with their resettlement in the United States. Nhi Pham, now a local area dentist, was a member of the family and recently shared her migration story with a gathering at St. Michael's. The parish's event helped participants "have a better understanding of how our helping refugees helps fulfill Christ's commandment that we love one another," said Deacon Gene Vanderzanden of St. Michael's.
'Families helping families'
Event attendees included parishioner Catherine Parks, who said her parents, Lawrence and Dorothy Rowe, were among the St. Michael's families who helped the Pham family find a place to live and welcomed them into the parish community. Parks, who was in her 20s then and teaching kindergarten, remembers seeing the Phams at church and having potlucks at each other's homes. "They got introduced to our food, and we got introduced to theirs," she said.
"Growing up, I loved church potlucks," Nhi Pham said. "They're all about fellowship and community and celebrating the most precious gifts we have to share."
Parks also recalled Nhi Pham's first day in her kindergarten class. She "came and stood beside me, not saying a word, and that was OK," Parks said.
Pham recalled how Bob and Anne Oman (former parishioners who attended the event) donated a blue Chevy Nova so her parents could take ESL classes at the local college. The Omans, godparents to Pham's brother Peter, surprised the family one year by leaving a Christmas tree on their porch. "We thrived because it was community-based support through faith," said Pham. "It was families helping families. That they donated out of love meant so much to us."
'Your blessing can multiply'
Nhi Pham works to give back to her community. In addition to running her dental practice, Pham volunteers with Medical Relief International and has traveled to Haiti, Central America, Tanzania and Lesvos, Greece, where she cared for Afghan and Syrian refugees. Locally, she also volunteers with Medical Teams International by serving on a mobile dental van throughout Washington state. Pham said it's a way to express her faith and pay forward the generosity her family experienced when they arrived in the U.S. "Your investment in another human being may be the seed of change for many," Pham said. "Your blessing can multiply into multiple blessings."
Read the entire, longer story at the Northwest Catholic.
– – – – – – – – – – – – – – – – – – – – – – – – – – – – – – – – – – – – – – – – – – – – – – – – – – – – – – – – –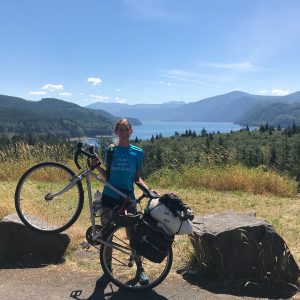 From May 12th to August 8th 2018, Alana Murphy biked 4,380 miles across the United States in order to meet with and interview people who came to the U.S. as refugees.  Her project is called the Beautiful Crossing – a digital archive presenting participant stories and photos, as well as snapshots of Murphy's cycling tour and additional resources for those seeking more information about the U.S. Refugee Admissions Program.
Although Murphy is only 26 years old, she has spent the past 8 years working with refugee and migrant populations in Jordan, Morocco, the Philippines, Ecuador, and the United States.  She was particularly inspired by her experiences working as an employment counselor with World Relief Chicago, helping resettled refugees prepare for interviews and find their first jobs in her home city.
The Beautiful Crossing was born out of the realization that very few people have had the opportunity to actually meet individuals from a refugee background. This lack of personal connection enables us to often put refugees in two different categories – either villain or victim.  The Beautiful Crossing seeks to humanize the issue and bring refugees' stories and opinions to those who have not had the chance to hear them in person.  Rather than focusing on why someone became a refugee, Murphy chose to instead open up the floor for participants to talk about starting life over in the United States as well as to express their opinions about U.S. culture and values.  She hopes the project will present a more nuanced and personal perspective on the now politically divisive word "refugee."
Many participants shared memories from their first few months in the United States.  One girl laughingly told about her first trip to McDonalds.  Another relayed the shock he felt upon entering a pet store and eyeing the entire aisle devoted purely to canine consumption.  One man explained how respected and trusted he felt the first time he was able to return something and receive a full refund.  Participants frequently expressed appreciation for U.S. values including freedom, hard work, and individuality.  They talked about the importance of being able to express their opinions, pursue continuing education courses later in life, and create small business, churches, and community organizations.  They also confessed fears of their children becoming disrespectful and following negative examples set by their American peers, concerns about school violence, and frustration with discrimination and racism in the United States.
During her journey, Murphy worked with 30 different organizations involved in refugee resettlement and advocacy.  She interviewed 68 different individuals from a diverse array of countries, including Bhutan, Burma, Nepal, Vietnam, Afghanistan, Iraq, Iran, Syria, Sudan, Somalia, the Democratic Republic of Congo, Ethiopia, Eritrea, Colombia, Guatemala, and Bosnia.  You can listen to these New Americans tell their stories in their own words at www.beautifulcrossing.com.
– – – – – – – – – – – – – – – – – – – – – – – – – – – – – – – – – – – – – – – – – – – – – – – – – – – – – – – –
The Faces of Migration feature this week is courtesy of the Columban Center for Advocacy and Outreach, a JFI core member organization.  In the story, a lifelong resident of the U.S./Mexico border region shares her thoughts about life and values in the area where she lives.  You can read the entire story here.
– – – – – – – – – – – – – – – – –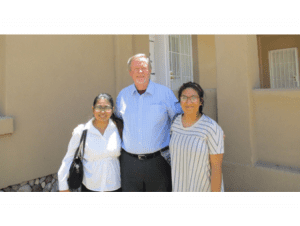 What a border resident thinks of border policies
With so much heated rhetoric and misinformation, it's hard to have a clear picture about what's really happening in the US/Mexico border region. That's why it's crucial to listen to the people who know it best: border residents. Cynthia Gonzalez is a native resident of the US-Mexico border region and is currently pursuing a Masters in Social Work. Cynthia has volunteered with different community organizations in El Paso, TX, including: Centro de Salud Familiar La Fe, Centro Agrario Sin Fronteras, and the Columban Mission Center.
At the Columban Mission Center, Cynthia supported different faith-based, immigration advocacy efforts. She has also participated in advocacy and leadership development projects with the Hope Border Institute, an advocacy and research office in the Diocese of El Paso, and volunteers at their immigrant and refugee shelter. Cynthia shares some thoughts about border life.
What changes have you seen on the US/Mexico border over the decades?
The most significant changes started taking place after 9/11. Residents began to see a drastic increase in law enforcement presence. This presence inevitably made my community change. For instance, it made it more difficult to commute between Ciudad Juárez and El Paso. The high-level of security and the long waiting lines started to deter people from traveling between cities. For us, this had a huge impact because we are one community of two cities. Most of us have family on both sides of the border and commuting is just part of our daily life.
How do border enforcement policies play out in border communities?
Historically, our communities have been places of encounter. Border enforcement policies instead instill a sense of fear and distrust, and also have a direct impact on businesses, deterring tourism and stifling the economic growth of the region.
What are your thoughts on the rhetoric surrounding the border?
We are a welcoming community. Our people are generous and kind. The rhetoric about our communities is dangerous and untrue. My city, in particular, has been noted as one of the safest cities in the U.S. I believe this is thanks in part to our large immigrant population and our diverse roots. We take care of each other. We support each other. Any rhetoric that portrays something different is a result of misinformation.
From your perspective, what do border communities need?
We need policies that reflect the reality of the border and seriously consider the challenges that we experience here. I believe policymakers would really benefit from hearing our perspective when they try to write effective policy.
Why is faith-based advocacy on the border important?
Our community is driven by faith and moral values. We understand the importance of helping those who suffer and are vulnerable – just like the Gospel asks us to. Faith-based advocacy organizations have been a vital support to our region. The various religious organizations have been at the forefront, leading the way to protect the most vulnerable.
What do you want people who don't live on the border to know about border communities?
I want them to know that we are strong, we are unique, and we are welcoming. To anyone not living on the border, I personally want to invite them to come and see it for themselves. I guarantee that they will be surprised by the kindness and hospitality that this community offers.
– – – – – – – – – – – – – – – – – – – – – – – – – – – – – – – – – – – – – – – – – – – – – – – – – – – – – – – – –
The Faces of Migration feature for this week is courtesy of Sister Ann Scholz, SSD, PhD.  Sr. Ann is the Associate Director for Social Mission at the Leadership Conference of Women Religious, a JFI core member organization, and shares an important update on the work of women religious as they assist migrants arriving at the U.S./Mexico border.
– – – – – – – – – – – – – – – – –
Congregations of Women Religious Respond to Migrant Needs at the Border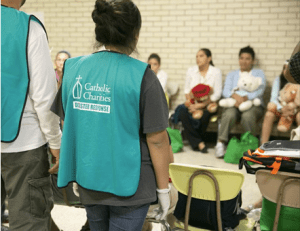 A few weeks ago, U.S. Immigration and Customs Enforcement (ICE) announced that they would no longer be detaining apprehended individuals in holding cells for any length of time. Instead, ICE would release immigrants, some with ankle monitors, with instructions to report for their asylum hearings at a later date. Shortly after ICE's announcement, the call for help went out from those staffing respite centers at the U.S./Mexico border.  Respite staff working along the U.S./Mexico border knew that if they couldn't provide needed hospitality, ICE would simply release people onto the streets. The response from congregations of U.S. women religious to assist with that call to accompany at the border has been tremendous.
More than 10 Catholic sisters and their colleagues are volunteering with Annunciation House in El Paso, Texas; La Posada Providencia in San Benito, Texas; Catholic Charities of the Rio Grande Valley's Respite Center at Sacred Heart Church in McAllen, Texas; and Catholic Charities' Las Alitas in Tucson, Arizona. These Catholic women are serving meals and cleaning rooms, providing rides to bus stations and packing care packages for travelers. They are helping with medical needs and communication with family in the U.S. and assisting with language interpretation and travel arrangements. They are also making beds and sorting clothes; reading to children and praying with parents.
In addition, religious congregations throughout the country have been very generous in their financial support. To date women's religious congregations have contributed close to $220,000 to help purchase food and supplies for the centers, provide legal assistance and care packages for immigrants, and to help hire extra staff to assist asylum seekers. With their combined on-the-ground and financial assistance, these women are demonstrating compassion while providing hope to individuals and families simply looking to live in peace.
Read JFI's backgrounder on this issue in English and Spanish.
Volunteer opportunities at Annunciation House, Catholic Charities of the Rio Grand Valley, and Catholic Charities of San Diego.
– – – – – – – – – – – – – – – – – – – – – – – – – – – – – – – – – – – – – – – – – – – – – – – – – – – – – – – – –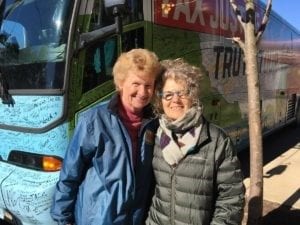 The Faces of Migration story this week is courtesy of Sister Richelle Friedman, PBVM. Sr. Richelle represents the Conference of Presentation Sisters, JFI's newest core member organization, and shares reflections from her recent participation in the Nuns on the Bus tour. You can read Sr. Richelle's entire post here.
– – – – – – – – – – – – – – – – –
Sr. Rachelle Friedman joined 10 other Catholic Sisters on a cross country bus tour to combat the myth that the tax bill passed last year benefits everyone, and that cuts in programs critical to the most vulnerable are necessary to pay for it. Participants in their tour's town halls, rallies and press conferences were aware of the cuts being proposed to safety net and humanitarian assistance programs. The concerns they voiced focused on a variety of issues, including immigration.
Amazing and brave people shared their stories with Sr. Richelle and her tour mates. In Beaver, Pennsylvania, a farmer named Don expressed his concern about U.S. immigration and refugee policies. A group he is part of, Ananias Mission, raised money to give to Canada in support of six Syrian refugees who the United States would not accept.
Nuns on the Bus also held site visits, including a memorable one in Kearney, New Jersey. The group First Friends was started in 1999 to provide compassion and hope to detained immigrants and asylum-seekers through volunteer visitation, resettlement assistance, and advocacy. One newly released detainee who had just been granted asylum recounted to the sisters his overwhelming sense of loneliness and despair in the ICE detention facility. He told them that no one ever referred to him by his name, but rather by his bed number. When someone from First Friends came and called him 'Robert', it was the first time he heard his name uttered in months. Staff at First Friends are beloved by the detainees who think of them as family.
It was an amazing journey! Everywhere they went crowds eagerly awaited their arrival. The coming of the tour bus and its passengers seemed affirming and energizing for those waiting for them. For Sr. Richelle and the others, it was equally energizing and humbling. At one of their final stops, Sr. Richelle met Michael, a student at St. Joseph's University in Philadelphia. Michael is a bright and articulate young man and believes in doing service. Michael and so many of the others they met serving those in need give Sr. Richelle great hope!
– – – – – – – – – – – – – – – – – – – – – – – – – – – – – – – – – – – – – – – – – – – – – – – – – – – – – – – – –

Photo from Angelus News (Archdiocese of Los Angeles)
The Faces of Migration story this week is courtesy of Sister Janice Thome, OP who serves with the Dominican Sisters Ministry of Presence. Sr. Janice works in Kansas with immigrants and refugees and shares this true story of "Ana" and her family fleeing from Honduras.
– – – – – – – – – – – – – – – – –
Ana was working in a restaurant when gang members flew through the front doors to kill a wealthy man surrounded by body guards. Some of the guards and gang members were killed. Because she was a witness to the shootings, Ana knew she would be killed so she ran out the back. A man caught her and for 10 minutes pointed the gun at her nose. The mother of three children prayed for God to save her. The man ran off, the a miracle.
The family knew the man could kill Ana if he saw her so they decided it was time to leave Honduras. In addition to this violent episode, the family considered leaving before because of their children. Frequently, boys in ninth or tenth grade are approached by cartel members wanting them to be drug mules or to kidnap people for money. If they resist, they are told that their entire family will be killed by the cartel. Ana and her husband did not want their sons to face this choice. They wanted to come to the U.S. so they could all be safe.
Ana, her husband and three children boarded a bus and began the long trek across Guatemala, along the vast expanse of Mexico, and finally to the border of Texas. Like so many immigrants flooding into the southern states, once across the U.S./Mexico border, Ana and her family were apprehended by immigration officials, hopeful that they would be granted asylum. The coyote separated them, she with their two sons and he with their daughter. The rationale for the separation was that it would ensure that her husband could also safely apply for asylum.
The family lived a nightmare for several days in separate places. ICE officials took all their IDs, her jewelry, went through their hair, and gave full pat-downs. They took their fingerprints and pictures. Officials wanted addresses and phone numbers of family members in the U.S. so they could prove that someone would take them in. Fortunately, they had family in different states whose information they had memorized. While they waited for their family members to send money for bus tickets, they were housed in a cold detention center where they slept on the floor and had small snack meals twice a day.
The family was thankful when they made it to their destinations and were finally able to reunite. The relief was so deep because they were safe and at peace knowing the man would not find Ana, and their two sons would not be forcefully coerced into a gang or cartel.
– – – – – – – – – – – – – – – – – – – – – – – – – – – – – – – – – – – – – – – – – – – – – – – – – – – – – – – – –
This Faces of Migration feature is of Saint Lorenzo Ruiz, the patron saint of the Philippines and migrant workers. Many thanks to the Office of Justice and Peace at the Diocese of Portland, Oregon for providing most of information for this week's story. You can read more at https://ljp.archdpdx.org/news/saints-alive-september-29-st-lorenzo-ruiz
This Saturday, September 29th is Saint Lorenzo Ruiz's 377th death anniversary. The first Filipino saint, also known as San Lorenzo Ruiz de Manila, died as a martyr in Nagasaki, Japan in 1637 at the age of 34.
Lorenzo was born in Manila of a Chinese father and a Filipino mother, both Christians. He learned Chinese and Tagalog from his parents, and Spanish from the Dominicans whom he served as altar boy and sacristan. He became a professional calligrapher, transcribing documents in beautiful penmanship. He was a full member of the Confraternity of the Holy Rosary under Dominican auspices.
In 1636, while working as a clerk for the Catholic church in his town, Ruiz was falsely accused of killing a Spaniard. Nothing further is known except the statement of two Dominicans that "he was sought by the authorities on account of a homicide to which he was present or which was attributed to him."
Ruiz sought asylum1 on board a ship by joining a missionary expedition to Japan with three Dominican priests: Saint Antonio Gonzalez, Saint Guillermo Courtet, and Saint Miguel de Aozaraza; a Japanese priest, Saint Vicente Shiwozuka de la Cruz; and a lay leper Saint Lázaro of Kyoto. Ruiz and his companions left for Japan on 10 June 1636, with the aid of the Dominican fathers.
Ruiz accompanied his missionary companions to Nagasaki, where Christians were being captured and persecuted due to Japan's wariness of foreign colonialism. According to accounts, the Japanese promised Ruiz that they would free him if he would denounce Christianity. Ruiz along with his companions refused to renounce Christianity, with the Filipino boldly saying he would offer a thousand deaths for Christ. They were tortured and put to death. His martyrdom and a miracle attributed to his intervention led to his elevation to Sainthood.
Pope John Paul II beatified Ruiz in 1981 during his visit to the Philippines, later canonizing him as the Philippines' first saint in 1987.
– – – – – – – – – – – – – – – – – – – – – – – – – – – – – – – – – – – – – – – – – – – – – – – – – – – – – – – – –
This Faces of Migration is courtesy of JFI core member partner, Ignatian Solidarity Network. You can read the entire article at https://bit.ly/2CxlSPX
Jose was six months old when his father left Mexico to find work and support his young family. Three and a half years later, Jose and his mom left their home in Mexico to re-unite with his dad in the United States. Although "coyotes" were paid to guide Jose and his mother across the U.S./Mexico border, they got lost for four days in the desert. When they were all reunited as a family in southern Ohio, Jose was enrolled in school and his family started to plant roots in their community. Later, Jose's two U.S.-citizen siblings were born. Unfortunately, Jose was diagnosed with a learning disability, and more difficulties struck when his parents' marriage broke apart and his father left. His mother was unable to provide fully for Jose and his siblings and the family was homeless for a time after the break up. All of this happened before he was ten. Despite the hardships growing up, Jose was mentored by caring folks in his community, stayed out of trouble, helped other Spanish speaking immigrants in his neighborhood, and finished high school. After high school, Jose enrolled at Xavier University in Cincinnati, was approved and received DACA, and graduated earlier this year. While in college, Jose was active with Jesuit youth and other student groups advocating for immigrants and DACA youth. This year, Jose will be in Washington, DC working at Network as an advocacy/lobby associate and plans to use his DACA experience, Jesuit education and youthful energy to promote legislation and policies that help immigrants and their families.
– – – – – – – – – – – – – – – – – – – – – – – – – – – – – – – – – – – – – – – – – – – – – – – – – – – – – – – – –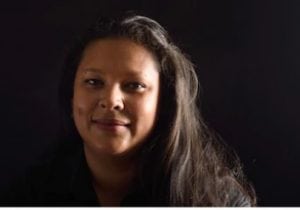 Carmen*, originally from Honduras, received comprehensive case management services from Catholic Charities of the Archdiocese of Galveston-Houston through the Trafficking Victim Assistance Program (TVAP). She was sex trafficked in Miami and fled to Houston to ensure she was not located by traffickers. Upon arrival to Houston, she had little to no support from friends or family, was suffering with symptoms of anxiety and depression due to the trauma, and also had serious medical issues. These medical problems were caused after the trafficker subjected her to plastic surgery involving injecting synthetic silicone to make her more appealing to customers. This harmful silicone caused the client to experience severe pain to the point that she could not stand or sit for more than 2 hours at a time. Surgeons had little knowledge of the type of silicone injected and the only solution offered was to remove the entire area which would cause a major deformity. Catholic Charities of Galveston-Houston's case manager assisted her client in finding better options. She and Catholic Charities staff located a surgeon that could remove the harmful silicone without causing deformities. The subsequent challenge was finding the financial assistance to cover the cost for this procedure.
The case manager at Catholic Charities of Galveston-Houston refused to give up. She connected her client to Face Forward, an organization dedicated to help victims of trafficking cover costs related to medical issues caused during their victimization. Client will undergo surgery on July 27, 2018. Her surgeon has offered a great prognosis.
During this difficult time, Catholic Charities' case manager provided the client with emotional support and psychoeducation. She also referred her to mental health services where she received therapy once a week, as well as established care from a psychiatrist. The client also obtained food, personal hygiene products, transportation services, donated clothing, orientation to community programs like ESL classes, and long-term housing assistance.
This past January, Catholic Charities' client received wonderful news. Her T-Visa was approved and her Employment Authorization Card arrived. Her case manager assisted her with applying for a social security number, Texas identification, food stamps (SNAP), and Medicaid benefits. The client is currently working with Catholic Charities employment services to find dignified work.
This young woman continues with mental health therapy and leverages community resources, including those at Catholic Charities. The trauma-informed case management provided by TVAP has made a difference in her life. It has empowered her to take control of her life once again and continue to pursue her dreams. She is hopeful and excited for the future.
*Identifying information changed to protect identity
– – – – – – – – – – – – – – – – – – – – – – – – – – – – – – – – – – – – – – – – – – – – – – – – – – – – – – – – –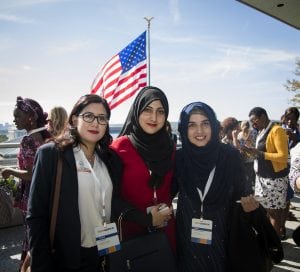 In January 2017, Rossul shared her resettlement journey and experiences on what it's like to be an immigrant teen in the United States.
Family Background and Migration Story
I was born in 1995 in Baghdad; all of my family are Muslims. We left Iraq in August 2015 because of the unsafe situation there and the lack of basic necessities, including  electricity and clean water.. We went to Jordan then to Turkey and finally resettled in Illinois. It took four days of travel and, alhamdu lil lah, which means "thanks God", we didn't face any issues on our way.
Life here is so different than in Iraq, but I am almost used to it after finishing two years of college, obtaining my driving license and getting married. It was hard at the beginning to start a new life with nothing. However, my family and I did a great job to build our life again.  As an adult, I don't care about what people think about me or my religion as long as I know that I am doing the right thing. I love this country. I live a good and peaceful life today and am thankful to the people who brought me here and helped me to resettle. Within five years I see myself working in the hospital as an ultrasound specialist, living with my lovely husband, near my family, with a little child, and in a calm house.
Before I came to the U.S., I wish I knew the people here don't speak the English we learned in school, but use more "common" language. Leaving my relatives and friends was the hardest thing…finding real friends or any sort of friends has also proven difficult. Work hard because you can do anything in this country.
My advice for parents: This is different than your home country and you should teach your kids to adopt this new culture and live with it. Be a friend to your children and always tell them to stay away from bad influences like drugs, bad relationships, etc.
My advice for teachers: Understand that for us, English is a second language. Please be patient and understand our needs. Learning English is the main issue for all refugees.
My advice for immigrant teens: Don't forget your culture and your religion. Be proud of who you are. Don't let this new life let you down or make you think bad about yourself –  you are special. Chase your dreams and study hard so you can be an important individual in this society; represent and make your country proud.
*Photo changed to protect identity
– – – – – – – – – – – – – – – – – – – – – – – – – – – – – – – – – – – – – – – – – – – – – – – – – – – – – – – – –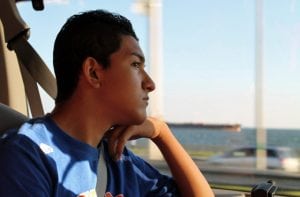 I left my Central American country as a 16-year old boy, leaving behind my mother and sister in our hometown. I left because the gangs wanted to kill me and because of this I decided to travel to the United States by myself. It took almost a month to make the passage through Central America and Mexico. I traveled by buses, cars and walking, and made the decision not to take the dangerous and notorious train that migrants call La Bestia. It was an exhausting journey. After being process by an immigration official I was placed in a child shelter facility. After two and a half months, I had the great fortune to be resettled by a local Catholic Charities agency in the Northwest. Agency staff made sure I was placed in a safe home with a caring family, helped me adjust and get acclimated to my new life, and encouraged me to perform well in school. I graduated from high school, moved on to a community college, and will graduate with my Associate of Arts degree this summer. A big-city university is providing me with a full scholarship to continue my studies next year where I plan to major in Medical Social Work. I hope to be a medical social worker after graduating from the university. As a way of giving back for the kindness and nurturing they provided, I am interning this summer with the Catholic church by working in the diocese's farmworker assistance program and helping immigrant families and kids.
*Some information changed to protect identity.
– – – – – – – – – – – – – – – – – – – – – – – – – – – – – – – – – – – – – – – – – – – – – – – – – – – – – – – – –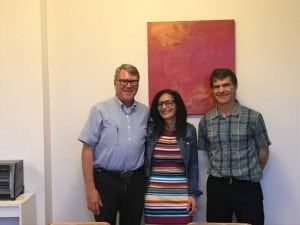 MRS Policy Director Ashley Feasley recently had the opportunity to visit Montreal, Canada to see the refugee resettlement program, tour the U.S./Canadian border, and observe the work of the Jesuit network. The trip was organized and led by Ignatian Solidarity Network, Jesuit Refugee Services, and the Jesuit Conference of North America and Canada. During the delegation's trip, they met and spoke with Alina,* who lives in a community in the Quebec province close to Montreal. She is from Syria and arrived in Canada this past February as a refugee resettled through Canada's private refugee resettlement program. Alina emigrated from Lebanon where she had been working to help other recent Syrian arrivals. Despite living in Lebanon for many years, Alina was separated from her family who lived near Homs. Alina was selected for private resettlement after Mark, a Canadian who had read about the refugee crisis several years ago, had organized with his parish to do more to help refugees. Mark personally decided to sponsor refugees through private settlement. He contacted Jesuit Refugee Services of Canada who connected him to Alina and helped him with the paperwork. Under Canada's private sponsorship program, Mark sponsored Alina for one year, taking financial responsibility for her and to ensure that she can access services as she integrates into her community.
Alina has already demonstrated remarkable resiliency and success. Upon arrival, she threw herself into an intensive French course to help her master the language. She then worked with career counseling services to work on her resume and practice for job interviews. By the middle of May, Alina had received an offer of employment at a private business. Alina seemed excited to start her new job and she spoke about some of the initiatives that she had undertaken to meet more people in her community – which included preparing baklava for some of Mark's neighbors and fellow parishioners. Despite her recent positive experience, Alina spoke of missing her family and how they are calling her now more than ever – sometimes several times a day. Of her family, Alina says, "they call more when I go further away from them-it's a way for them to be closer to me even when we are further apart."
Special Thanks to Ignatian Solidarity Network, JRS and Jesuit Conference of US and Canada.
– – – – – – – – – – – – – – – – – – – – – – – – – – – – – – – – – – – – – – – – – – – – – – – – – – – – – – – – –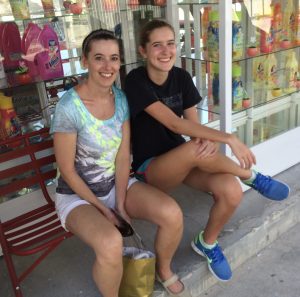 Every Mother's Day we honor the mothers in our lives and celebrate the vital role they play in our families. It is an opportunity to come together and remember the blessings of family and to reflect on how important it is, not only to ourselves but to the fabric of our society. Unfortunately, we know many children have been unnecessarily separated from their mothers – and fathers – while trying to seek protection at our southern border; these children will be spending this holiday alone.
Over the past year, the Department of Homeland Security's Customs and Border Protection has increasingly chosen to separate children from their parents and legal guardians at the U.S./Mexico border. Since October 2017, over 700 children have been separated from their parents and rendered "unaccompanied," including over 100 children under the age of four. We expect this number to drastically increase with the recent "zero-tolerance" policy.
Many of these immigrant families are fleeing from violence and persecution in their home countries, and seeking safety and protection for their children here in the U.S. While separation can be appropriate when there are trafficking or abuse concerns, more often such separation is occurring in the absence of such justifications. For example, a mother and her 3-year-old son Daniel* fled from Guatemala to the U.S. to escape persecution by the local gangs. Upon their arrival at the U.S./Mexico border Daniel was separated from his mother by Customs and Border Protection (CBP) agents, deemed "unaccompanied," and placed in a separate ORR facility from her. It seems that CBP agents were confused as to the nature of their relationship and believed Daniel to be traveling with his aunt. While their parent/child relationship has since been confirmed, Daniel's mother continues to be held in an immigrant detention facility. As of today, both mother and toddler have still not been reunited with each other.
Separation from a parent or legal guardian can have extremely adverse effects on children. According to the American Academy of Pediatrics, separating families is extremely frightening and stressful to children, and their research has shown that even short periods of separation can cause psychological trauma and long-term mental health problems.
The U.S. Conference of Catholic Bishops, where I interned last semester, is very concerned about the increasing number of cases of family separation. Catholic Social Teaching underscores the importance of the family and its essential role to the individual and society. When families are ripped apart and children separated from their parents for no reason, something must be done to right this wrong. We must work to ensure that all immigrant families and children who are detained are not needlessly separated from one another and that they are treated with the dignity and respect that they deserve. So, this Mother's Day while many of us are celebrating with our families, I encourage you to remember children like Daniel who are unable to do the same with their parents.
*Client name changed to protect confidentiality.
-Sarah Hoff
– – – – – – – – – – – – – – – – – – – – – – – – – – – – – – – – – – – – – – – – – – – – – – – – – – – – – – – – –
Virginia farm country is not a place where you would necessarily expect to find newcomers. Many of these small towns' residents have grown up there, with their families living in the area for generations. So, when there are new people in town, the locals take notice. This is exactly what happened in a small mining and farming town in southwest Virginia when four Salvadoran men arrived.
These men, all related, are Temporary Protected Status (TPS) recipients. They came to the small town to work for a local who needed help building his ranch. While the town members were initially wary, as time went on, the locals began to embrace these men. As a Catholic Monsignor who ministers to the community put it, "I got to know these men as workers and then as friends. I know them to be outstanding men."  They were seen around the community, not just on the ranch, but doing whatever jobs they could so that they could make ends meet and help their families. The town came to rely on and value these new members of their community, affectionately dubbing them "The Amigos."
Unfortunately, their families back in El Salvador faced daily violence. It was known by the local gangs in El Salvador that the men were sending money back home, and their families became the gangs' targets. Due to these threats, the men applied for their sons to be brought to the United States through the small but critical Central American Minors (CAM) Program.
With the assistance of the USCCB network and the Monsignor, the men completed the rigorous paperwork, paid the related fees, and their sons completed the required testing. One boy even received notice of his conditional approval for humanitarian parole. It was a joyous and hopeful time for the families, until they learned of the CAM program's termination and the corresponding revocation of conditionally approved humanitarian parole. Given the troubling manner in which the program was closed, the families watched their opportunity for protection and reunification vanish. The Monsignor worked to engage members of Congress on this issue, but after months of engagement and effort, no solution has been found. Now these staples of the community face the heartbreaking reality that their sons will remain in harm's way.
Adding to this deeply disappointing news was the Administration's recent decision to terminate TPS for El Salvador. With this decision, these men will lose their protection in September 2019, and the small town will lose a major component of its workforce. As the Monsignor stated: "Our community could hardly make it without these men."
– – – – – – – – – – – – – – – – – – – – – – – – – – – – – – – – – – – – – – – – – – – – – – – – – – – – – – – – –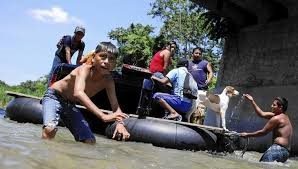 Jose, a Honduran Teen, shared his resettlement journey and experiences with USCCB staff In January 2017
My family and I are originally from a small town of the southwest of Honduras, where my parents worked as farmers. My family is Catholic and has been Catholic for generations.
My parents worked hard to put me in school and sent me to school to a big city because there are no schools at our town. They didn't have enough to send me to school or college and offer me the opportunities I wanted to have and I was forced to leave the country because the gangs were pressuring me to join. I had to escape because I did not want to participate in that life of crime, of hurting others, I just wanted to go to school.
I left my country when I was twelve with two other boys, ages twelve and fourteen, in 2004. We took a bus to the border of Guatemala. I was scared we would be followed by the gangs. We walked through the mountains to pass the border. Then we hitched rides to the border of Mexico. We had no food and water and we ended up drinking cow urine. Both of my friends died on the journey.
Once I got to the border I stayed for two and a half years living in a migrant house and had to beg for food. I managed to cross the border but a smuggler said he wanted $4,000 to release me from a stash house. I called the family I had in the U.S. but no one answered. In the end, the man took me to California to work in a furniture firm where I worked 12-hour days, six days a week. I worked there for two years and he used to pay me $120 every two months.
When I realized how much others were paid, I was sad. Eventually a different man helped me leave and gave me a place to live and helped me find work. But related to the trafficking situation I was arrested and put in a detention center for eighteen months. The court appointed a lawyer for me and he got me out of detention, and an organization helped me navigate the legal system. I don't know where I would be now if they hadn't helped me. Deported? In jail? Dead?
Five years after leaving Honduras, I had the privilege to build a new life in the U.S. I have received so many opportunities and I'm getting where I wanted to be as a child. I am so happy I have a better life and also getting a better education, which my country never offered me. I am so happy that the U.S. gave me the opportunity to resettle and build a new life. I am part of the community and helping shine a light on and bring justice to more victims and survivors like me.
– – – – – – – – – – – – – – – – – – – – – – – – – – – – – – – – – – – – – – – – – – – – – – – – – – – – – – – – –
– – – – – – – – – – – – – – – – – – – – – – – – – – – – – – – – – – – – – – – – – – – – – – – – – – – – – – – – –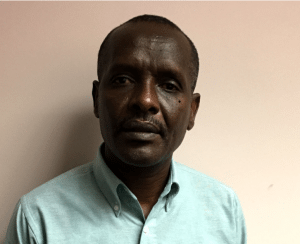 Catholic Charities Atlanta has been very active in telling the stories of refugees. A couple months ago, they kicked off their 120 stories in 120 days campaign, which will tell 120 different stories of clients, staff, volunteers, and community members involved with our resettlement program.
Kimberly Longshore of Catholic Charities Atlanta said, "The goal of this project is to humanize the refugee crisis as we highlight the successes and the contributions that refugees make to their local communities."
Each day this week, we will highlight different stories from the campaign on our social media pages. Here is the first one:
"Jean recently arrived in the United States with refugee status. After waiting for almost two and a half years, he was happily reunited with his wife and two kids living in the Atlanta area.
Jean spent many years living in Rwandan refugee camps. Conditions of camps were often unstable, and Jean was required to relocate frequently for fear of being caught in a dangerous situation. Life was not easy even when he was not on the move. Running water and electricity were non-existent. It was very difficult having to be dependent upon food arrivals for long stretches of time, especially when essentials food shipments did not arrive regularly. Finding medicine was also a significant challenge, with some medicines being almost impossible to find.
Jean is incredibly grateful to be in the United States now. He is very grateful that his kids are enrolled in school, an option they were denied while in Rwanda. They have a chance to get an education, and he is very thankful for it. His kids now have access to utilities and technology. He does not have to worry about where is food and medicine will come from. He is thankful that America is a place where laws are followed and enforced, and he feels safe because of it. And he is thankful for the people that have helped him and his family to make this transition."
Jean
CCA Refugee Client
To see the rest of the stories and the work Catholic Charities Atlanta is doing, please visit their website.
– – – – – – – – – – – – – – – – – – – – – – – – – – – – – – – – – – – – – – – – – – – – – – – – – – – – – – – – –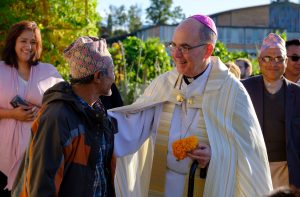 In honor of National Migration Week 2018, the Seattle Archdiocese, led by Archbishop J. Peter Sartain, have gone all out to celebrate.  They are conducting an entire week of celebrations.  On January 11th, they will be conducting an Immigration Appointment Accompaniment Volunteer Gathering, a great opportunity to "Share the Journey" by literally walking with immigrants as they attend their immigration appointments.  On January 14th, a panel on human trafficking, The Intersection of Human Trafficking and the Contemporary Immigration Crisis will be led by Elizabeth Murphy, Intercommunity Peace and Justice Center–Seattle, and a former JFI core-group all-star!  The event promises to be an eye-opening learning experience depicting how human trafficking and the immigration crisis intersect.
The event lead up to the 2nd Annual Catholic Immigration Summit on March 10th.  For that event the Archdiocese is asking you to join fellow Catholics to share our immigrant journeys – old and new – and discern where we go together from here.  The day concludes with Mass with the Archdiocese's Auxiliary Bishops Elizondo and Mueggenborg. To register, go to: http://www.seattlearchdiocese.org/Assets/PastoralCare/13714_ImmigrationSummitPoster.pdf

Do you have 2018 National Migration Week events planned?  Let us know about them at jfi@usccb.org 
– – – – – – – – – – – – – – – – – – – – – – – – – – – – – – – – – – – – – – – – – – – – – – – – – – – – – – – – –
On December 9, neighborhoods in Washington, DC witnessed a magical moment honoring Our Lady of Guadalupe. Slowly proceeding through the snowy Washington streets, an impressive group of pilgrims/parishioners accompanied a statue of Mary, mother of God, to the Basilica of the National Shrine of the Conception. During the procession, the group the group sang Spanish hymns dedicated to Our Lady of Guadalupe. They were led by Bishop Mario Dorsonville, Auxiliary Bishop of Washington.
The group had gathered together at noon at the Shrine of the Sacred   in Washington and walked peacefully for two and half miles through the snow-covered streets until they reached the Basilica of the National Shrine of the Immaculate Conception. The procession, entitled "Walk with Mary," is not a new event to the Archdiocese, but the addition of the snow certainly made for an even more beautiful and sacred experience this year.
Upon arriving at the Basilica they joined hundreds of other worshippers in the Church to say a rosary in Spanish, French, English, Igbo, Amharic and Tagalog.  Following the rosary there was a Mass, which was celebrated by Cardinal Wuerl with Bishop Dorsonville as the homilist. The spirit along the procession and inside the Basilica was one of community and excitement, as children sat alongside elders waiting to celebrate mass and Our Lady of Guadalupe.
For more information about Our Lady of Guadalupe, read our backgrounder (Spanish) and to learn about Our Lady of Guadalupe celebrations in your community, see our map. As always, we invite you to send us stories and pictures from your community's Our Lady of Guadalupe event to jfi@usccb.org. We will promote those as well.
– – – – – – – – – – – – – – – – – – – – – – – – – – – – – – – – – – – – – – – – – – – – – – – – – – – – – – – – –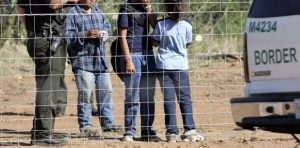 The Central American Minors (CAM) program has provided a legal and safe avenue for children in the Northern Triangle of Central America (El Salvador, Honduras, and Guatemala) to access necessary and life-saving protection. Ana is one such child.
Ana was only a young teen, living in the Northern Triangle, when the local gang began to target her. The gang would harass Ana on her way to and from school. They would accost her and try to force her to become their "girlfriend" or property. As Ana continued to deny them, she lived in constant fear for her safety and that of her family. She reached a point where she no longer felt safe anywhere she went.
Ana's father, who was living in the U.S., helped her apply for the CAM program so that she could escape this constant persecution. With the help of USCCB/MRS and its affiliates, Ana's application was accepted, and she was reunified with her father in the U.S.
While it was difficult for her to leave her home behind, Ana is deeply thankful for the security and safety that the CAM program provided her and notes that seeing her father "is an everyday blessing." Since her arrival, Ana no longer feels fear and anxiety living her everyday life. She attends high school and dreams of going to college.
Unfortunately, on November 8th, the Administration announced that it would be terminating the CAM program. Bishop Joe S. Vásquez of Austin, Texas, chair of the U.S. Conference of Catholic Bishops' Committee on Migration, expresses his opposition, stating: "Terminating the entire CAM program will neither promote safety for these children nor help our government regulate migration." Read the full statement at: https://www.usccb.org/news/2017/17-216.cfm.
– – – – – – – – – – – – – – – – – – – – – – – – – – – – – – – – – – – – – – – – – – – – – – – – – – – – – – – – –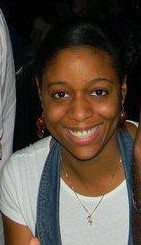 Mitsu and her brother, born and raised in Haiti, came to the U.S. on student visas to attend college. In 2010, during the course of their studies, Haiti was hit with a 7.0-magnitude earthquake, which devastated the country. Due to the severity of the earthquake, the U.S. government designated Haiti for Temporary Protected Status (TPS). TPS is a temporary, renewable, and statutorily authorized immigration status that allows individuals to remain and work lawfully in the U.S. during a period in which it is deemed unsafe for nationals of that country to return home.
Mitsu and her brother applied for and received TPS, providing them protection and permitting them to continue their studies. Mitsu now works as a physician assistant, allowing her to help finically support her parents back in Haiti. With the current TPS designation for Haiti set to expire shortly, Mitsu's future is uncertain. As she notes: "The possibility of having the TPS program terminated, and consequently our temporary visas not renewed is a stress that we are constantly living with."
Mitsu speaks to her parents frequently of conditions in Haiti and knows that the country has not yet recovered from the earthquake and subsequent hurricanes. "Haiti is nowhere near in a condition to support its current residents let alone receive citizens currently living abroad."
Mitsu hopes that Congress will take action and find a long-term solution for Haitian TPS recipients. "We have done everything the right way [in applying for TPS and consistently renewing]; yet, still find ourselves entangled within the immigration debate."
To learn more about TPS, please visit our resource page here.
Voice your support for TPS recipients like Mitsu, and urge your Members of Congress to pass appropriate legislation. You can take action here.
Watch for our USCCB/MRS delegation trip report on TPS for Haiti, which will be released shortly.
– – – – – – – – – – – – – – – – – – – – – – – – – – – – – – – – – – – – – – – – – – – – – – – – – – – – – – – – – –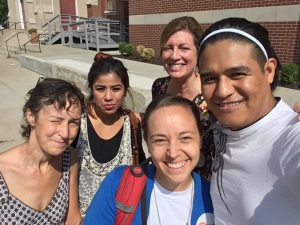 "How good and how pleasant it is, when brothers* dwell together as one!" (Psalm 133: 1).
Accompaniment and support from his community made the difference between deportation and life in the United States Luis.⃰ Together with a group from the Indianapolis Congregation Action Network (IndyCan), a Justice for Immigrants (JFI) affiliate, Luis attended his immigration court hearing with the local community behind him. This support made all the difference. While Luis was charged with speeding and driving without a license, he was able to secure a pre-trial release, which meant the charges would not show in his permanent record. This result would not have been possible without the help and support provided to him from IndyCAN and the community.  Translation services were not provided through the court, but with IndyCan standing alongside him, translation was provided. Prior to his day in court Luis had surgery and therefore was unable to work to have money available to help in his defense. Members of the group generously offered to cover the extra cost of pre-trial on the spot. Luis was overjoyed by the generosity of those he just met.  The monetary and communal support of this group of individuals was something Luis never expected. After the trial, the group debriefed upon the event. This gave them an opportunity to reflect on what ways the court recognized or denied rights, constructed barriers, and how everyone felt participating in the process. The ability to pray together before and after the case allowed Luis to relate more closely to this community and share a little more of his story.  Luis is in the process of getting a U visa and will be moving forward with his case and his involvement with IndyCAN and the larger Indianapolis community.
⃰Name changed for protection.
– – – – – – – – – – – – – – – – – – – – – – – – – – – – – – – – – – – – – – – – – – – – – – – – – – – – – – – – – –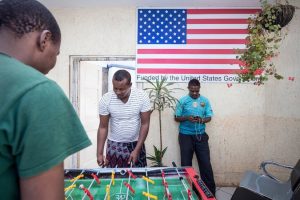 Ali was born in Somalia and was orphaned along with five siblings when his parents died. He left his country, journeyed through Africa and Europe, and finally ended up in Ukraine. He finally made it to the U.S., graduated from college, and is still working hard to achieve his goals. Living in the U.S. has been a series of challenges for Ali, but he has persevered and also has some advice for parents, teachers and other immigrant teens. He has an inspiring story and, earlier this year, Ali shared his resettlement journey and experiences on what it's like to be a refugee teen in the United States.
To see more about Ali's experience click here.
*Picture has been changed to protect identity
– – – – – – – – – – – – – – – – – – – – – – – – – – – – – – – – – – – – – – – – – – – – – – – – – – – – – – – – – –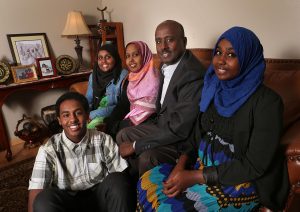 As was the case 170 years ago with early Mormon pioneer families, Aden Batar and his family left their home – Somalia to resettle in a new area and faced the uncertainty of how they were going to re-establish their lives, build a home, and ensure a safe place to live. Batar, who was resettled through Catholic Community Services from Somalia to Utah in 1994 as a Muslim refugee, said the experiences of modern refugees are similar to those of the Mormon pioneers at the resettlement stage. "Same thing with the Mormon Pioneers — when they came to Utah, they found this new land, (start) a new life and make this their home. I consider myself as a pioneer coming to this new community in Utah. I consider this my home now. This is a state, a community that welcomed me and my family, took us in, and helped us to overcome all those challenges."
Religious discrimination and sacrifice are also among the experiences shared by early Mormons and current "modern-day pioneers." In the same way that Mormons were forced to flee their homes based on their religious beliefs, there are more than 65 million people worldwide who have been forcibly displaced as a result of conflict or religious persecution. This number includes 22.5 million refugees.
Read more about the refugee experience of Batar, who is also the Director of Migration and Refugee Services for Catholic Community Services in the Diocese of Salt Lake City, and the rest of the story at
http://www.deseretnews.com/article/865686025/Modern-sacrifice-carries-on-pioneer-legacy.html
– – – – – – – – – – – – – – – – – – – – – – – – – – – – – – – – – – – – – – – – – – – – – – – – – – – – – – – – – –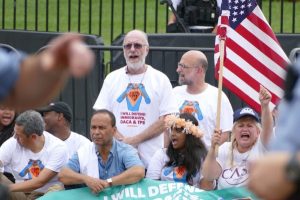 Because of DACA, I can "study / work in an area that I really want to / drive / help my family / travel / breathe / have a life." These are some of the responses we hear from Asian American and other DACA beneficiaries. DACA refers to a highly successful program that allows undocumented youth who meet certain requirements to live and work in the U.S. temporarily. Since the program started in 2012, it has had a transformative impact on the lives of hundreds of thousands of youth and their communities.
The threat of DACA cancellation moved us to action, bringing together immigrants, faith leaders, and other supporters to fight for our youth and future. NAKASEC and the Franciscan Action Network initiated a 22-day, 24/hour a day, picket in front of the White House since August 15th (fifth anniversary of DACA implementation) to call on the White House and Congress to defend DACA and promote citizenship for all. The action goes through 9/5. Many faith leaders and organizations have joined in the vigil, including Catholic groups that are part of Justice for Immigrants. The Justice for Immigrants campaign encourages you to review the following materials and support the vigil and other peaceful efforts to highlight the contributions of DACA Youth:
Faith communities are calling for seven-day fast from 8/30 – 9/5 https://docs.google.com/forms/d/e/1FAIpQLSdsuwsw5DL4u-hO9mQEJc2fzSABeldeD8WJb06ClRVd5yzp6A/viewform
For more information about #DreamAction17, go to www.nakasec.org/act.  Or www.Franciscanaction.org. If you're in the D.C. area, join us at the White House. You can show your support also by signing the JFI petition here.
– – – – – – – – – – – – – – – – – – – – – – – – – – – – – – – – – – – – – – – – – – – – – – – – – – – – – – – – – –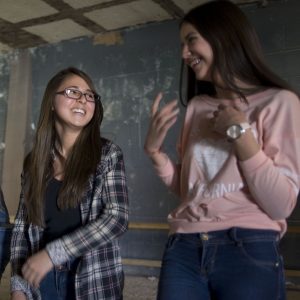 Last week, the Department of Homeland Security terminated the Central American Minors (CAM) parole program. This program provided critical temporary protection and a legal avenue for vulnerable children from El Salvador, Honduras, and Guatemala to reunify with their parents in United States. Through this program, the U.S. Conference of Catholic Bishops / Migration and Refugee Services was able to assist children like Lucia – whose story is below – escape violence and find safety in the U.S.
Lucia's Story
Lucia* was living in El Salvador with her grandmother when, at the age of 16, she became a target for local gangs. After refusing to become a gang member's "girlfriend," the gang threatened Lucia's life as well as that of her family. Facing daily harassment, Lucia lived in constant fear for her safety. She could no longer even attend school due to the danger posed by the gang. Through the CAM parole program, Lucia was able to find a safe and legal way to escape this danger and reunite with her mother who was living in the United States. Without the daily threat of violence hanging over her, Lucia is thriving. She is attending high school and maintaining a 4.0 GPA.
*Name and photo image changed to protection privacy.
– – – – – – – – – – – – – – – – – – – – – – – – – – – – – – – – – – – – – – – – – – – – – – – – – – – – – – – – – –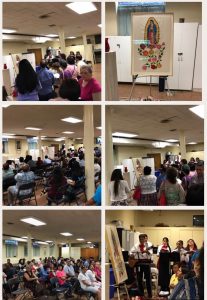 For several centuries, Our Lady of Guadalupe has offered her protection and sustenance to all the inhabitants of the Americas. The nations of the Americas are one, bound together by the presence of the Lady of Tepeyac. And as the world continues to come to this continent seeking a new home, the "Mother of the True God for whom we live," calls us to become part of the divine family. For this reason, Our Lady of Guadalupe invites us to enter into solidarity with the migrant and the refugee. Guadalupe erases the divisions that exists between peoples and invites them to an encounter that establishes kinship. In Guadalupe we are invited to encounter those who are suffering, the persecuted, the forgotten. We are called to approach them not as "the other," but rather as brother and sister.
The archdiocesan tilma of Our Lady of Guadalupe is visiting parishes throughout the Archdiocese of Washington. The pilgrim tilma is bringing the message of Guadalupe to all those who profess the faith that makes us universal. At each parish, Our Lady invites the faithful to come together for prayer and reflection in solidarity with migrants and refugees. By the time of our annual celebration on December 9, Guadalupe will have visited 20 parishes. Each time planting a seed of hope in the heart of those who see the world branding them as a problem and a burden. Guadalupe offers hope for those who come to our parishes seeking restoration in the same way Guadalupe restored Juan Diego's humanity.
The traveling pilgrim tilma serves as a call for all individuals throughout the Archdiocese of Washington to join in prayer and support for our migrant brothers and sisters. For more information, please visit the Archdiocesan website: http://adw.org/wwm/.
Thank you to the Archdiocese of Washington for helping with this story.
– – – – – – – – – – – – – – – – – – – – – – – – – – – – – – – – – – – – – – – – – – – – – – – – – – – – – – – – – –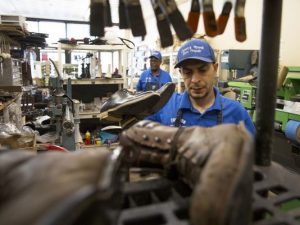 In Cincinnati, a 78 year-old man who grew up and survived during the Jim Crow era of his native Georgia develops a friendship with a Syrian Muslim refugee father of five despite their 42 year age difference. What brings them together is hard work, finding refuge – five decades apart – in the same town, and a shared experience as newcomers to Cincinnati looking for a safe place to work and raise a family.
"When I met him, he reminded me of myself," Clarence Howell said, 57 years after leaving the deep south. His friend, Bassam Osman, 36, came from Aleppo, where war has claimed 31,000 lives and destroyed more than 33,000 buildings. He worked in a shoe factory before it was bombed.
With the assistance of the local Catholic Charities agency and USCCB-provided refugee support funding, the two men work mending shoes at Howell's shoe repair shop and developed a bond that is more than boss and employee.
"He is a great man," Osman said. "I can tell he cares about me and my family.
To read more of this story, click here.
(Photo credit: Liz Dufour, The Enquirer)
 – – – – – – – – – – – – – – – – – – – – – – – – – – – – – – – – – – – – – – – – – – – – – – – – – – – – – – – – – –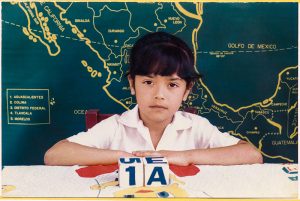 I have lived in the United States for 20 years as of this past December. I am 29 years old. My parents made a decision to bring my family here in an emergency because my father's mother, who lived in the United States, was gravely ill and had not seen her son for more than 20 years or met his family. At the age of 10, I just thought I was visiting my grandmother. Six months later, my grandmother passed away. After this terrible tragedy, I realized we were not going back to my little hometown