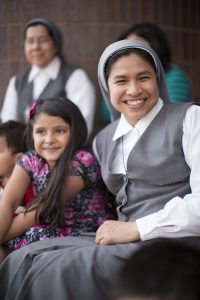 Please see our resources below to help you advocate humane migration related policies to your local lawmaker:
USCCB Committee on Migration Recent Action on Immigration & Refugee Bills & Issues: A quick reference for the migration and human trafficking-related bills the Bishops' have supported and opposed in recent months
How to Use the JFI Appropriations Toolkit
The toolkit is to be broken down and the various parts of it are to be used individually to help you facilitate your meeting.
There is a section for setting up a meeting with your federal lawmaker; another section with an introduction and talking points for your meeting, as well as leave behinds for the four issues we are working on:

enforcement (DHS);
vulnerable populations (HHS);
root causes (SFOPs); and
immigration courts (CJS)

These requests are the "two-pagers" of specific information for our appropriations asks for each issue and committee. The two-pagers are to be left behind with your lawmaker or their staff member so that they have our requests in writing.
Read the one-pagers prior to your meeting as well as the talking points. The talking points will be your script for the meeting.
Refer to the appropriate one-pager if you are asked questions about the funding requests. If your one-pager does not have the answer you are looking for, don't worry- you can simply offer to follow up and contact JFI staff to help you send a response back to your lawmaker or their staff. (This will give you an opportunity for follow up!)
Wait until after you have presented your talking points before handing over the packet of two-pagers.
Offer to send electronic versions of the two pagers as a follow up.
Report to JFI about your visit!
FY2018 Justice for Immigrants Appropriations Toolkit